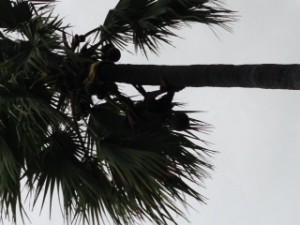 Okay – forgive me for my technical ignorance.  I couldn't figure out how to flip the picture.  So, you'll have turn your head to the left to see the guy all the way up in that tree.
The weekend before last, I went with a friend to a small town about an hour east of Superbad for toddy.  Toddy is tapped from the palm tree.  It's supposed to have nutritional value and, they say, it ferments very quickly, so by the afternoon, it's pretty intoxicating too.
We got out to the town about 8am, found our toddy guy, pitched a blanket and had our first glass.  The guy up in the tree comes down with a pot full of freshly tapped toddy, he poured it through a palm leaf that acted as filter into a glass and we drank.  And then there was glass number 2.  Then they brought out some of the most perfectly cooked fish I have ever had.  It just melted in our mouths. Then, glass number 3 and a change of location.  The change of location also brought the spiciest chicken curry I have ever tasted!  Followed by glass number 4.
Now, even though they say it takes till the afternoon to ferment into alcohol, but man we were some drunk group by about 11am.
A day later, I got my first case of Delly Belly.  Related?  Who knows, but it was a fun Sunday.